Tidepool Woman
--- Pen & Ink / Watercolor / Gouache / Digital Media ---
Tidepool Man
--- Pen & Ink / Watercolor / Gouache / Digital Media ---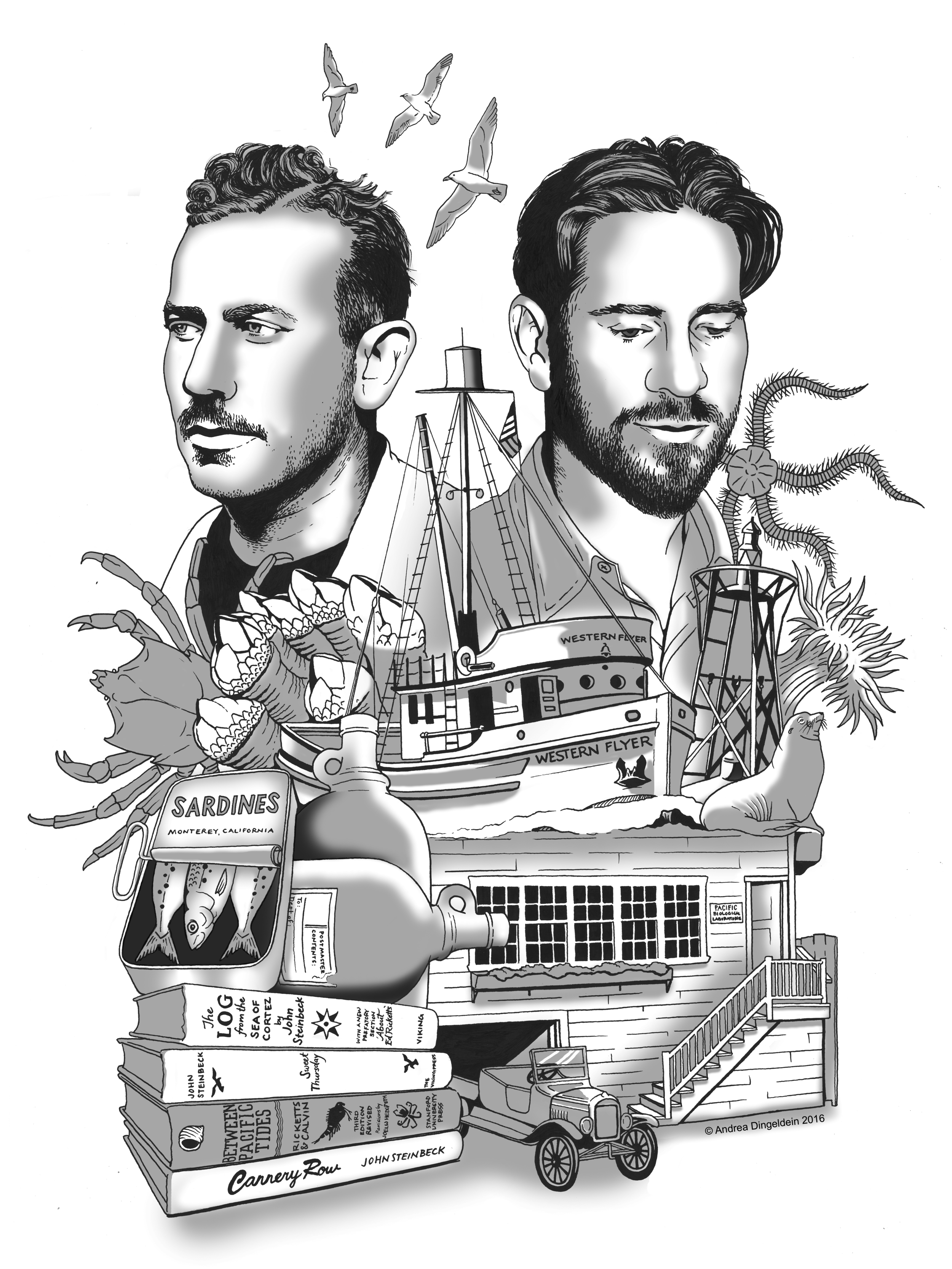 The Adventures of Steinbeck and Ricketts
--- Pen & Ink / Photoshop ---
Edible Algae
--- Watercolor / Pen & Ink ---
WSN 100th Logo
Designed for the Western Society of Naturalists 100th meeting.

--- Pen & Ink / Photoshop ---
Belted Kingfisher
Megaceryle alcyon
--- India ink/Scratchboard ---
Seastar Internal Anatomy
An illustration created for a graduate student at Cornell University.
Invertebrates of the Pacific Northwest
Created for University of Washington's Friday Harbor Laboratories
--- Watercolor / Photoshop ---
Atlantic Ghost Crab
Ocypode quadrata
--- Colored pencil / Drafting film / Acrylic ---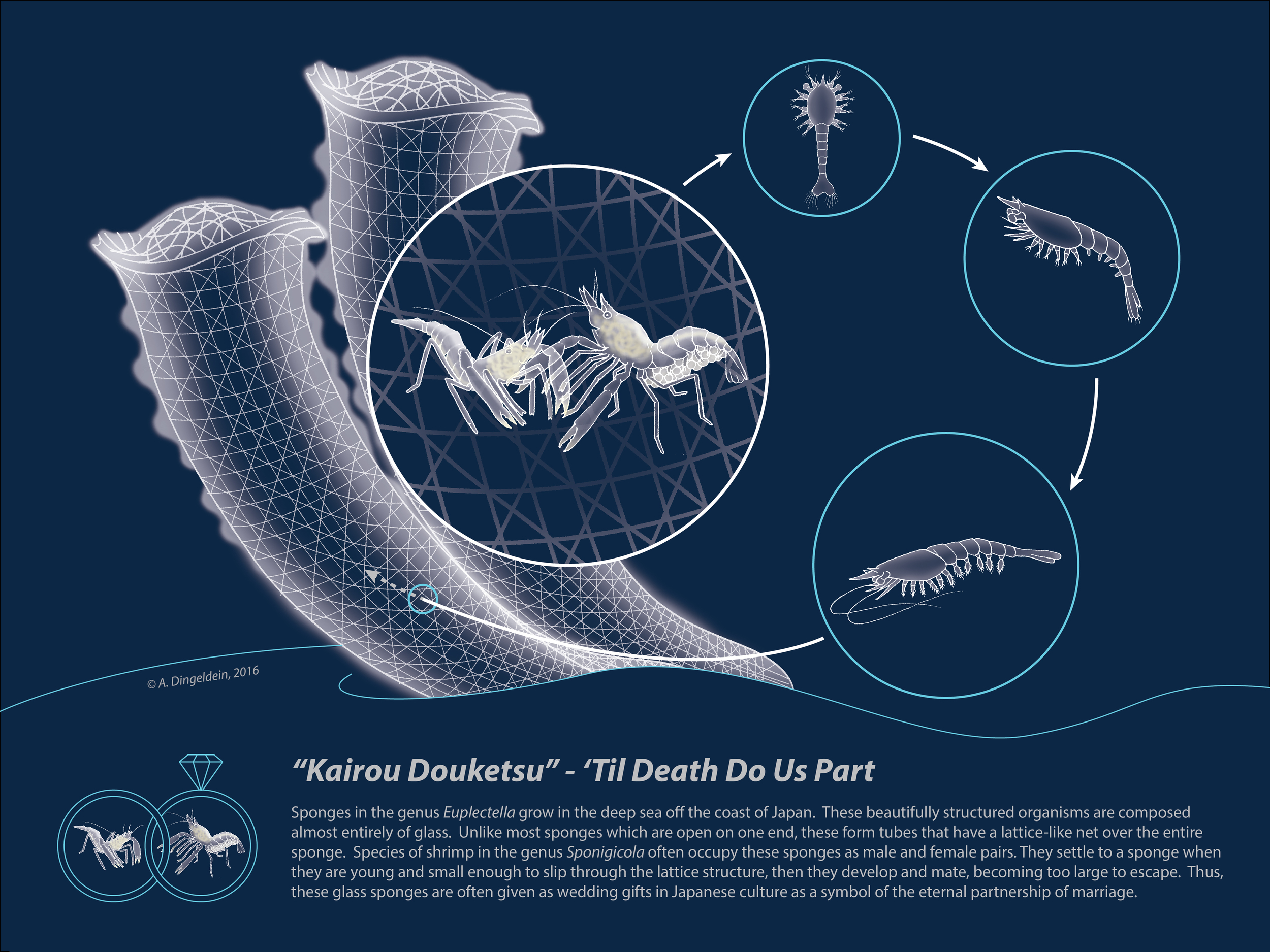 Glass Sponge & Shrimp
Euplectella sp. and Spongicola sp.
--- Photoshop / Illustrator ---
Ventana T-shirt Design
This illustration was commissioned by Ventana Surfboards & Supplies in Santa Cruz, CA. It pictures a Pacific Red Octopus (Octopus rubescens) grasping the Western Flyer (the ship that carried John Steinbeck and Ed Ricketts on their expedition to the Sea of Cortez). Ventana creates handmade wooden surfboards from reclaimed and recycled materials, including wood from the ship that was donated by the Western Flyer Foundation.
Penpoint gunnel
Apodichthys flavidus
--- Photoshop ---
Larvae of Pelagic Fishes
--- Watercolor / Photoshop ---
Larval Rockfish
Sebastes goodei
--- Illustrator / Photoshop ---
Pleuston
--- Watercolor / Digital Media ---
Monkeyface Prickleback
Cebidichthys violaceus
--- Photoshop ---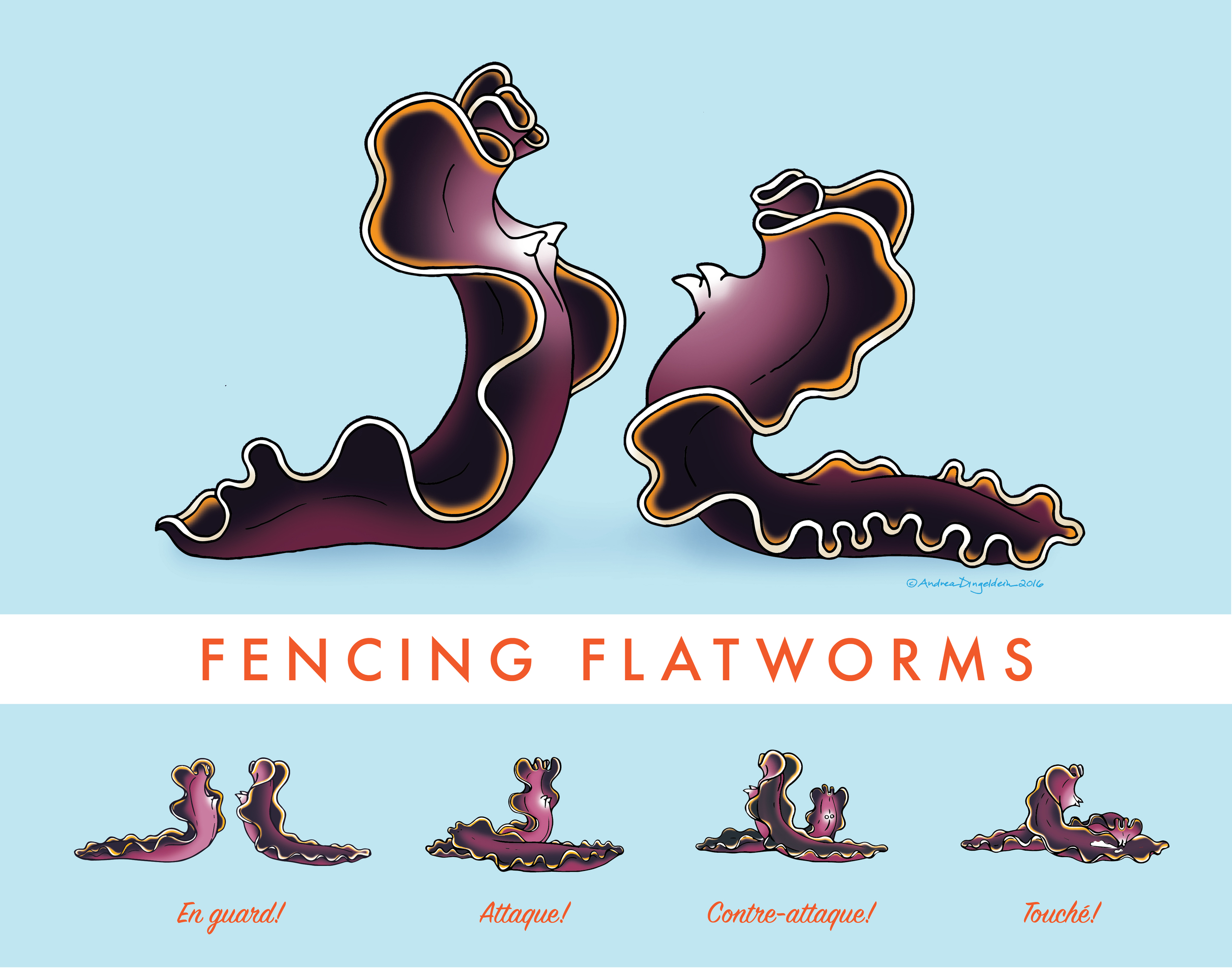 Flatworm Penis Fencing
Pseudoceros hancockanus
--- Photoshop / Illustrator ---
Western Flyer
Shark Eye Moon Snail #2
Neverita duplicata
--- Colored Pencil / Toned paper ---
Trawling for Genes
Coevolution in a Mutualism
Greya politella & Lithophragma bolanderi
--- Graphite / Photoshop ---
Inflated Beetle
Cysteodemus armatus
--- Graphite / Photoshop ---
Kelp Forest Animation
For Dr. Mark Carr at UCSC, funded by NSF
--- Photoshop, Illustrator, After Effects ---
Inland Silverside
Menidia beryllina
--- Watercolor / Colored Pencil ---
Black Oystercatcher (1)
This logo was created for the Bureau of Land Management (BLM) and their partner, California Coastal National Monument (CCNM). It was made into buttons for citizen scientists to wear when they are monitoring nesting Black Oystercatchers along the coast of CA in the spring/summer.
Plankton Cube
A conceptual illustration of some of the taxa of organisms found in a drop of seawater. Published in Science Magazine.